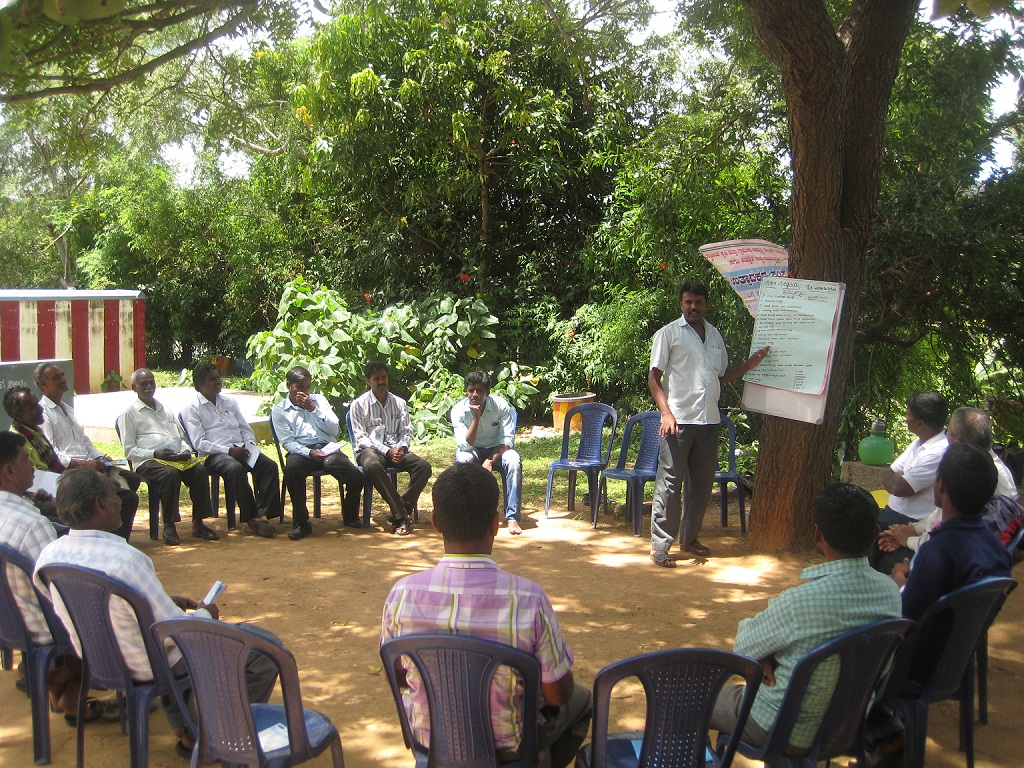 Village level institutions in rural India have the vital stake in the development of their communities. Good rural development supportive programs empower these communities by engaging members of village level institutions to actively participate in their own development. AVISHKAR's strengthening Village Level Institutions initiative provides leadership skills, trainings and interventions to enhance the responsiveness, accountability and transparency of village groups and committees. Skills are developed as community leaders share knowledge and learn by doing. Collective action inspires confidence, self-worth and self-reliance. Institutions gain strength by identifying and addressing problems collectively. They use their newfound strength to develop village plans, access funds from the government and implement the plans in a transparent manner. However, Village institutions are very crucial for ensuring the sustainability of the development and decentralized decision making in project planning, implementation and management. AVISHKAR is being promoted Self Help Groups (SHGs), Joint Liability Groups (JLGs), Vegetable Growers Association (VGAs) and Farmer Clubs (FCs). These Institutions are being strengthened by organizing a series of trainings, workshops and exposure visits to the members of the institutions. These institutions have also been involved in organizing various events like Shramadan, environment awareness programmes and building community assets etc.  Institutions like SHG's and JLGs have also been linked to the financial institutions/ Banks  to avail loan for initiating livelihoods activities such  as  animal husbandry, poultry, petty shops, tailoring embroidery, flower business and vegetable business.
In addition to village institutions, AVISHKAR has also good rapport with the other local institutions, Gram Panchayats, with the government officials of taluk, district and State level.
SELF HELP GROUPS (SHG): The objective of forming SHG groups was to build /enhance social capital that would lay the basis for sharing and mutual support, to enhance their ability to lobby and providing them hand holding support for sustaining the SHG groups.  Presently the AVISHKAR is working with 268 SHGs with focus on strengthening the SHGs for better livelihood opportunities. SHGs have established credit linkages with banks and have initiated viable livelihood activities.
FARMER CLUBS: Farmers' Club is an informal forum in the villages and 20 farmers clubs being promoted in a village / cluster of villages, generally in the operational area of a Bank. With the guidance and support of AVISHKAR, Farmer Clubs have accessed to the socio economic development of the village including livestock, organic farming, Soil and water conservation and dry land horticulture under various schemes of the government. The linkage with the Krishi Vigyan Kendra (KVK) to get the soil health cards by the farmers and to avail the benefit of getting their soil tested. Farmers' Clubs have gained skill so as to increase production and productivity.
AVISHKAR has supported farmer clubs to have interface with subject matter specialists in the various fields of agriculture and allied activities etc., extension personnel of Agriculture Universities, Development Departments and other related agencies for technical knowhow up gradation. For guest lectures, even experienced farmers who are non members from the village/ neighbouring villages were invited.
The Farmers' Club has also been instrumental in certain social welfare measures like free eye check-up camp, animal health care camp, mass vaccination camp, community works like road, check-dams, afforest ration, etc.
JOINT LIABILITY GROUPS (JLG): Promotion of Joint Liability groups (JLG) is helped the women's, small and marginal farmers to strengthen their collective bargaining power and collectively involve in procurement of inputs.  The organization has promoted 96 joint liability groups (JLG) for the vulnerable section community mainly women's, small and marginal farming community.  Training and capacity building activities were organized for all the JLGs.  All JLGs have started savings, credit activities and got bank linkages.  Totally 58 JLGs have availed bank loan and started livelihood activities such as animal husbandry, petty business, tailoring and agriculture allied activities.
VEGETABLE GROWERS ASSOCIATIONS (VGA): The organization has promoted four vegetable growers associations the main objectives of the associations is to create awareness and adopt innovative technologies of eco-friendly practices for organic vegetables cultivation and enhance vegetable production to improve the productivity of land through promotion of eco-friendly agricultural practices. The Vegetable growers associations (VGA) are functioning well with regular meetings, savings and taking lead role in motivating fellow farmers about organic vegetable cultivation such as enrichment of farm yard manure, seed treatment, application of bio-fertilizers, preparation of Jeevamrutha, soil testing and training and capacity building programmes.
DETAILS OF COMMUNITY BASED ORGANIZATIONS (CBO) PROMOTED: Promotion and strengthening of peoples institutions is part and parcel all the development projects implemented by the organization. This is also important for the successful execution and completion of the projects. During the year focus was given on organizing training and capacity building, exposures, awareness programmes to the people's institutions regularly to build their capacities in the maintenance and management of assets created during the project period.  Details of the people's institutions promoted by AVISHKAR are presented in the following table.  
| | | |
| --- | --- | --- |
| Sl.No. | Type  of the CBOs promoted | Achievement |
| 1 | Farmers producers company limited | 02 |
| 2. | Vegetable growers association | 04 |
| 3. | Joint liability groups (JLG) | 96 |
| 4. | Women SHGs | 165 |
| 5. | Farmer clubs | 17 |
| 6. | Women farmer clubs | 02 |
| 7. | Village watershed committee (VWC) | 01 |
| 8. | Organic farmers forum | 01 |
| | Total | 288 |